Last March I spent three weeks living on the side of Sleeping Buffalo (aka Iinii Istako aka Eyarhey Tatanga aka Woweyahgey Wakân) - a mountain located in the Bow River Valley of Banff National Park in Alberta.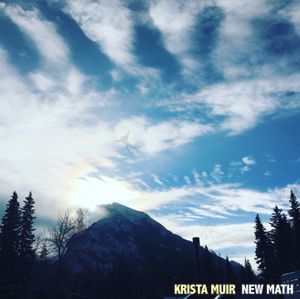 It was my first time at the centre (cover of New Math one of the many mountains around the campus). The singer songwriter residency was comprised of 30+ musicians, mentor-teachers, and a team of studio and live venue engineers-in-training.
We played and sang on each others songs, hermited away to write, came out on the weekends to perform works in progress, watched movies and magic by Fats Kaplin (who played pedal steel, fiddle and mandolin as part of the studio recording roster), and attended workshops and one-on-one sessions with folks such as Kim Richey and Kevin Welch. I also ate more cruciferous veggies and desserts than I thought humanly possible. Thank-you staff at Vistas for all those washed, chopped and prepared those meals and did all those dishes. Never lived so fancy free of the day-to-day schlep in my life. What a TREAT!
Anyways, back to the music...the original project I'd intended on exploring (a radio drama about my dad's crazy sailing adventure from Hawaii in the early 60's...still on the burner) flew out the window in favour of a group of orphan songs that tugged at my coattails. 'Fine! I'll play with you!" (they insisted) so I gave these songs some attention and ended up going into my 4-hour recording session with several of them.
9:00am on March 15th, 2019 (I'm not a morning person...) I walked down from the "wooden place" (PDC) into the JPL building nervous and excited to record several songs (1? 2?) with the session musicians live off the floor. Chord/lyric charts in hand I stepped into the control room and was greeted by Christian Aylward and Joaquin Gomez at the board while Howard Bilerman made everyone feel at home - calmly conducting musicians and engineers while serving up espresso shots (Café Vito from Mtl no less!).
What you'll be hearing on the upcoming New Math EP release is this rare session - 6 musicians playing together while working out songs from start to finish while Howard offered guidance and kept things moving along. New Math was an epic start to the day (I had barely awoken...), Honouring Heirs ended up more ethereal than I could have wished thanks to the conversation that emerged between Carla's synth, Fat's pedal steel and Mike's guitar.
When we got to the third song Beautiful Trap - a ode to Montréal - we had about 30 minutes left on the clock. I started to run it on baritone uke (the instrument I wrote it on originally in a drafty old apt. on Bernard in Mtl) but halfway through I was all "bleh...this doesn't sound right..." and Howard, suggested I switch to the piano. BOOM we were off and what you hear is the product of about 20 minutes together feeling it out, running through maybe once or twice and then - HIT - RECORD! 
FUN! SCARY! Mostly fun...check it out on bandcamp when it drops digitally only on February 21, 2020! Till then here's NEW MATH live with me on bass.
And I will be returning to TEXAS in March 2020 to see Pee Wee Herman at the Aztec Theatre in San Antonio so if I book live shows, collaborations, or workshops I'll be posting them ASAP. If you want me to play your town PM me on my facebook or instagram with suggestions for house concerts, venues, cafés, schools that might want one of my Album Visioning Workshops etc.