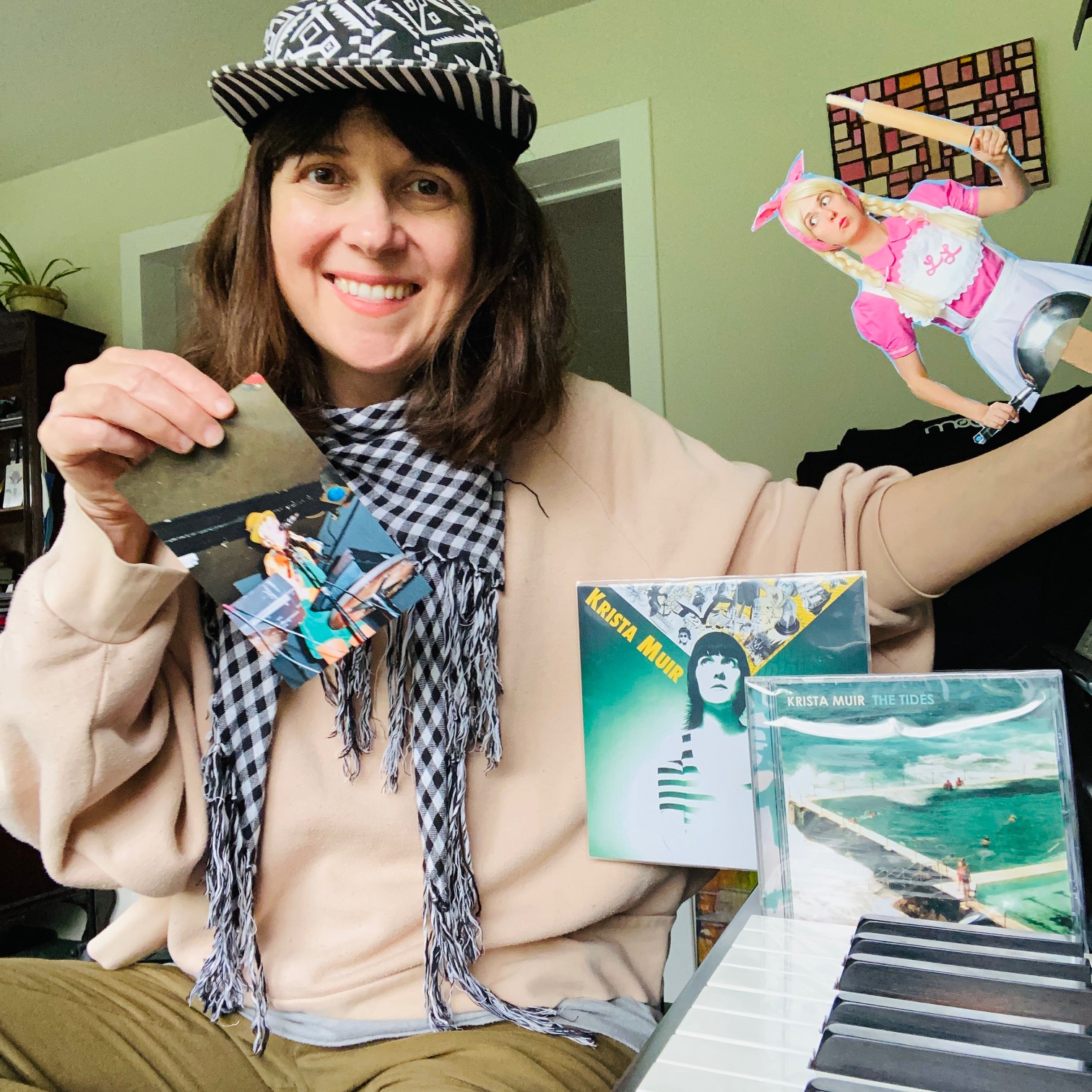 Mayday mayday! Calling all friends and fans of hypo records and Muir Music…Feel like time traveling with us for a moment? 
The family home/hypo HQ storage unit has sold and Muir has been tasked with travelling down the various memory and merchandise highways and byways...front ways and sideways… 
This geographic locale was where Krista Jr. studied piano and had secret poetry club meetings and where, eventually, The Tides was recorded in 2017 post op (pictured at the piano in the music room where she engineered it in 10 days!). She's unearthed stock that lay dormant due to minimal touring from health issues and would love for these beloved objects to grace car stereos, dvd players, record players and fridges instead of the impending doom of darkness. *For $25 (North America) or $35 (International) Canadian we will send you a hand-picked package that includes music (not necessarily what is pictured…it'll be a true SURPRISE!) as well as mystery ephemera - sticker? Set list? Postcard? Photos from the vault? Hand scribbled note? Gift it to yourself or a surprise a friend in need of cheer! Rest easy knowing you've supported an artist/s you've enjoyed over the past few months, years,…decades? Help us unshackle this dormant merchandise and the other odds and sods in this storied place! Free exclusive thank-you song with every purchase. Entertainment guaranteed. Warning: Tangible, audible, but not edible.
Order here today: TIME MACHINE SURPRISE PACK! Who doesn't love getting a package in the post?!
MAY 27th: I'll be walking in honour of my mom Ann and several other friends parents (including fellow composer/musician Gregory Oh's mom Young-ja Choo) this month in Kingston. You can support this walk/Alzheimer's Society of Kingston by visiting my page here. 
JUNE 15th: ROSIE plays at PRIDE - FREE EVENT + Krista Appearance! Come out on this beautiful summer eve for music, cinema and pride! Dusk (8pm) - bring a chair, picnic, friends…
NEW RELEASE - Les Chouettes have something to share and it may involve sealing wax…what!?? They won't tell us exactly but it is music (yé!yé!) and one track is entitled "Letter Lettre." Excité!